While the ever-present availability of basement booze may appeal to the average college kid, occasionally, we need a semblance of something a bit more adult. The solution: apartment party, cocktail edition.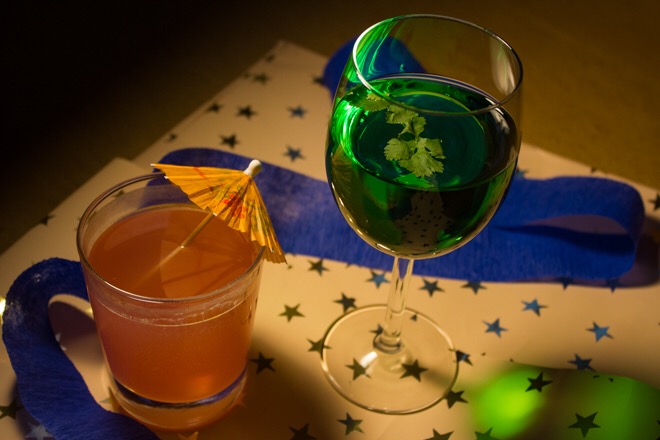 The Aesthetic
The perfect cocktail party requires the perfect atmosphere. So create an aesthetic. Pick a color scheme, whether it be gold, shades of purple, or classic black and white. Subtly decorate your apartment, with streamers and tablecloths. If you're feeling fancy, maybe even some balloons. Even color schemed plastic cutlery and cups can make all the difference.
The Invitation
A nicely gif-ed text. A dog-faced snapchat. A short email. However you choose to invite your guests, be sure to give all the essentials - date, time, location - and be sure to emphasize the dress code. After all, what is a cocktail party if not a reason to drink and get dressed up?
The Food
Though most people come for the drinks, snacks are just as important a part of a cocktail party. Some ideas:
Deviled eggs - cheap and easy, and requires little more than a carton of eggs.
A baguette and tapenade (to make you feel the most adult)
Good old cheese and crackers
Pretzels and chips
Pita bread and hummus
Or check out Pinterest for any of these cool ideas. And finally…
The Drinks
Cape Cod
Add a shrimp dish to really feel the sea.
3 oz. cranberry juice
2 oz. vodka
One lime wedge
Preferred brand: New Amsterdam, $15/bottle
Black Russian
To warm you up during the colder months.
1.5 oz. vodka
.75 oz. coffee liquor
Preferred brands: Svedka $23/bottle, Kahlua $18/bottle
Lemon Drop Martini
To give your cocktail party a little citrus spirit!
1.5 oz. vodka
.75 oz. of lemon juice
.25 oz. of simple syrup
Lemon garnish
Preferred brands: Svedka $23/bottle
Long Island Iced Tea
Because everything from Long Island is fancy.
.5 oz. vodka
.5 oz. rum
.5 oz. gin
.5 oz. tequila
.5 oz. Triple Sec (or any orange-flavored liquor)
1 oz. Coke, to taste
Lemon wedges or lemon juice
Preferred brands: Absolut $19/bottle, Angostura $18/bottle, Seagram's $16/bottle, Hornito's $25/bottle
Dark Side of the Moon
If you're too cheap to buy anything but beer.
1 oz. Guinness
1 oz. Blue Moon
Remember, all of these are just suggestions! You set the tone of your cocktail party, and whether its fancy, fun or even '90s inspired, be sure to drink safely and responsibly.