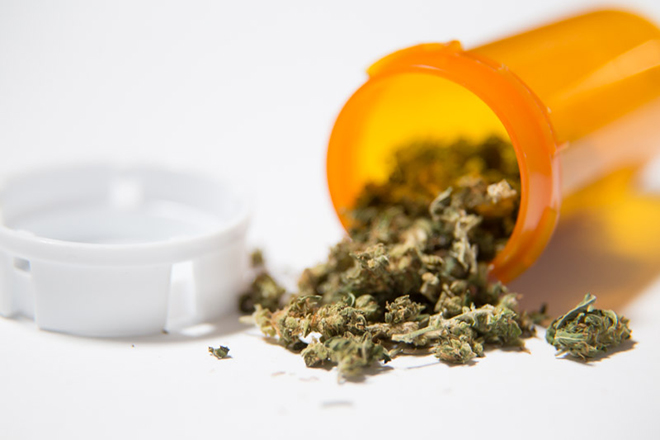 For thousands of Illinois residents with disabilities, Monday, November 9, 2015, was a panacea years in the making. Dozens of marijuana dispensaries opened their doors, as the state launched its medical marijuana program after two years of government planning and years more of citizen advocacy. And despite some rough patches in the rollout, Illinois may soon take another step as the State House passed a bill May 18 that, with Gov. Bruce Rauner's approval, could decriminalize the drug under state law.
Yet for college students diagnosed with a condition that warrants the use of medical marijuana, the medical program has done little, and decriminalization would be an imperceptible change. Under a 27-year-old law, colleges risk losing federal funding if they don't prevent the use of drugs listed as controlled substances by the federal government. Despite the state of Illinois' relaxed regulations, marijuana remains a Schedule I controlled substance, meaning that the Drug Enforcement Administration considers a drug to have "no currently accepted medical use."
As states embrace similar measures, colleges are increasingly caught between federal law, which requires them to keep campuses drug-free, and state programs that allow a growing number of students to obtain marijuana for a slew of disorders, from chronic pain to epilepsy.
Facing a dilemma, college administrators have responded with vagueness and sleight of hand; when it comes to medical marijuana policy, administrators may be blowing smoke.
---
When Tommy* was 15, he started experiencing soreness in every joint. By his senior year of high school, Tommy, a track, soccer and hockey player, was forced to abandon all athletic activity. Around then, the Mayo Clinic gave the ailment a name: polyarthritis, a condition similar to rheumatoid arthritis.
"I could barely make it up the staircase at school [and had] a hard time being able to raise my arm in class over my shoulder cause it's so much pain," Tommy said.
"When you're 20 and you start taking those drugs, you're basically guaranteeing yourself a large host of problems for the rest of your life," – Tommy*
Doctors at the Mayo Clinic first prescribed a strong anti-inflammatory that Tommy said sparked a severe allergic reaction – hives from head to toe. To fight the allergy, they put him on Prednisone, a steroid that almost immediately caused bladder issues and made him bruise easily. And he said he could see the long-term effects of the drug every day in his mother, who used the drug to treat her rheumatoid arthritis – frailty to the point that she needs a sweater in 80 degree weather, and can't hold her bladder for more than an hour.
"When you're 20 and you start taking those drugs, you're basically guaranteeing yourself a large host of problems for the rest of your life," Tommy said.
The summer before college, Tommy moved to Michigan, where medical marijuana has been legal since 2008, and found a clinic almost immediately. He said cannabis turned around his life, allowing him to get to class every day, sleep at night and play intramural – albeit not varsity – sports again.
But when he moved to Evanston to attend Northwestern, his medicine was suddenly illegal, and even after Illinois legalized medicinal weed two years later, it was still against University policy.
Passed at the height of the War on Drugs in 1989, The Drug-Free Schools and Communities Act said that colleges would lose federal funding if they did not prevent unlawful drug use. If a school goes against the federal act, it risks losing hundreds of millions of dollars in research grants and financial aid. In Washington, Colorado and other states that have legalized medical marijuana, college administrators have pointed to the law as the reason they can't allow use on campus.
Now a senior, Tommy can use marijuana safely in the confines of his off-campus house. But as a freshman, he said he hid out at beaches, construction sites and abandoned buildings to smoke without getting caught, because he couldn't smoke cannabis – what he calls it insistently, referencing the name it bore in the first half of the 20th century when the drug was a staple at English and American pharmacies – in the residence halls.
Tommy said he hoped that the license will spare him if police spot him smoking, even if the law states otherwise. Under federal and state laws in all 50 states, though, smoking in public is illegal and a medical license is not a valid defense.
---
Conscious of the students' predicament, Caroline Naughton, president of Students for Sensible Drug Policy, and ASG senator Jonathan Kamel, a senior in Weinberg, submitted a resolution in November to allow edible forms of the drug in dorms. It passed almost unanimously, but had little effect on the University's policies.
"Northwestern, like all colleges and universities that receive federal funds, is subject to the federal Drug Free Schools and Communities Act," Vice President of University Relations Alan Cubbage wrote in an email to NBN. "Under that federal law, it is illegal to dispense or use marijuana on campus. The ASG resolution may reflect students' opinions on the issue of medical marijuana, but the University is required to obey federal law."
"I'd be flabbergasted to see anyone taking action against the University." – Eric Berlin, healthcare attorney
The University drug policy states that a conviction for possession of marijuana can result in "denial of federal benefits, such as student loans, grants ..." – i.e. financial aid. Yet Assistant Dean of Students Tara Sullivan wrote in an email that punishment would be decided on a case-by-case basis.
Healthcare attorney Eric Berlin, who helped advocate for the Illinois medical program, said that universities can use their discretion to remain within the bounds of the law while overlooking certain infractions and giving students the latitude to take care of themselves. The Obama administration announced they will not prosecute in states that have legalized the drug, and in the 23 years since the federal law's passage, no university has lost federal funding for violating it, according to a 2012 brief from SSDP's national headquarters.
But when the school's written policy explicitly bans medical marijuana – the University added an addendum after the Illinois program launched – students said that discretion or intentional oversights isn't enough.
"I've been in situations that have been uncomfortable, compromising, that could jeopardize my future," a student (who wished to remain anonymous) with a license from California for chronic pain said. "Getting arrested with something, getting pulled over with something even if I was not under the influence, all these things because I want to not feel shitty all the time."
Neither student has the license they would need to use legally in Illinois, although both say they are eligible. Tommy cited the high cost of a license for the reason he does not have one – he would have to change his legal residence and find an Illinois doctor. The other student said he may soon acquire one.
---
If she and Kamel can't make medical marijuana legal on campus, Naughton said the next best option is taking students off campus.
Under the new two-year residency requirement, incoming freshman will have to live on campus their first two years, forcing those with medical marijuana prescriptions to give up their medicine (or break their housing contract by consuming the drug). But copying a program at Tufts University and several other institutions, Naughton has lobbied administrators to waive this requirement for students with medical marijuana cards.
The President's Office forwarded all questions about marijuana policy to Vice President Patricia Telles-Irvin, who declined to comment except to quote the student handbook's policy against all forms of marijuana. Roger Becks, director of administrative services, said in January that the administration was still deciding on the possible exemptions to the residency requirement and could not comment further
Tommy acknowledges the University is in a tough spot, but after four years trying to use a medicine that is officially contraband, he insists something has to change.
"I understand it's a question of liability on the state or the University and it's still illegal federally," Tommy said. "But if the commitment is to safety and welfare of students, and it's understood that it's happening, perhaps a policy that gives more of a safe space for use could be beneficial, and pushing people onto Evanston proper or into places where they are not legally allowed to to be is just not safe."
*Editor's notes:
Tommy's last name has been withheld for privacy reasons. A previous version of this story indicated that Tara Sullivan said that legal experts and administrators at other schools say universities have tremendous discretion in how they handle individual cases. This information was misattributed. The story was updated at 9:15 p.m. on Wednesday, May 25 to reflect these changes. NBN regrets this error.