The Deuce is the go-to bar for Northwestern students, at least since the fabled Keg closed (RIP, we never got to know you). Although our little ears have heard many a story about late Thursday nights spent at the popular bar, we never really had a strong desire to actually go to the Deuce – we were satisfied with the easy accessibility of random frat parties on campus or wreaking havoc from the comfort of our rooms. It was cheaper than having to buy watered down vodka and calling an Uber (side note: one of us may have called an Uber in lieu of walking the 10 minutes across campus to the frat quad more than once, but that's totally irrelevant). We weren't particularly attracted to the idea of going to such a place; however, there was still a bit of lingering curiosity about it – we felt like we couldn't claim to have a true Northwestern experience without going. So we grabbed our $5 bills, and off we went.
11:15 p.m.
The Uber pulls up to a desolate strip of Evanston. The drive comes with entertainment – the driver expands our repertoire of foreign swear words, and serenades us with a few bars of a Brazilian song upon hearing that Keyla was from Brazil. After we arrive, upon walking in, we are met with a group of about 20 freshmen, all clumped together. That's about all we observe before we make a quick beeline for the bar. The bartender is kind of confused when we ordered vodka limes, and tries to give us a shot with a wedge of lime before obligingly pouring lime juice and vodka into a plastic cup. Keep 'em coming, sis.
11:45 p.m.
The bar is finally starting to fill up. We check out the dance floor. Apparently, everyone thinks it would be fun to squeeze about 30 people onto a dining table-sized platform. We try out some of our favorite dance moves, including what we fondly call "the white boy fist pump." We give up pretty quickly. Looking around, we conclude that everyone is getting younger. They're 15. No, 14. It's definitely not because we're getting progressively tipsier.
12:10 a.m.
Some man tapped us on the shoulder and offered us free drinks. Who are we to say no to free things? On second glance, one of them is definitely wearing a wedding ring. Yikes. He also claims to be from Brazil (and indeed has a Brazilian surname!), but stares blankly at us when Keyla pulls out the Portuguese. We are left to stand there and wonder: How long do we have to wait before it's OK to slip away?
12:40 a.m.
Those two free shots are doing us good. We're suddenly struck by the strong desire to prove our journalistic chops. Should we interview someone? Definitely. We interrupt a middle-aged couple on what looks to be a date (sorry!). They tell us that yes, they "are very much aware this is a college bar." It turns out they like to come here because of the "vibrant energy" and because it makes them feel younger … OK. We have more questions but we also have the attention span of a small fish. We take a break to text our lovely editor, who immediately knows what we are up to.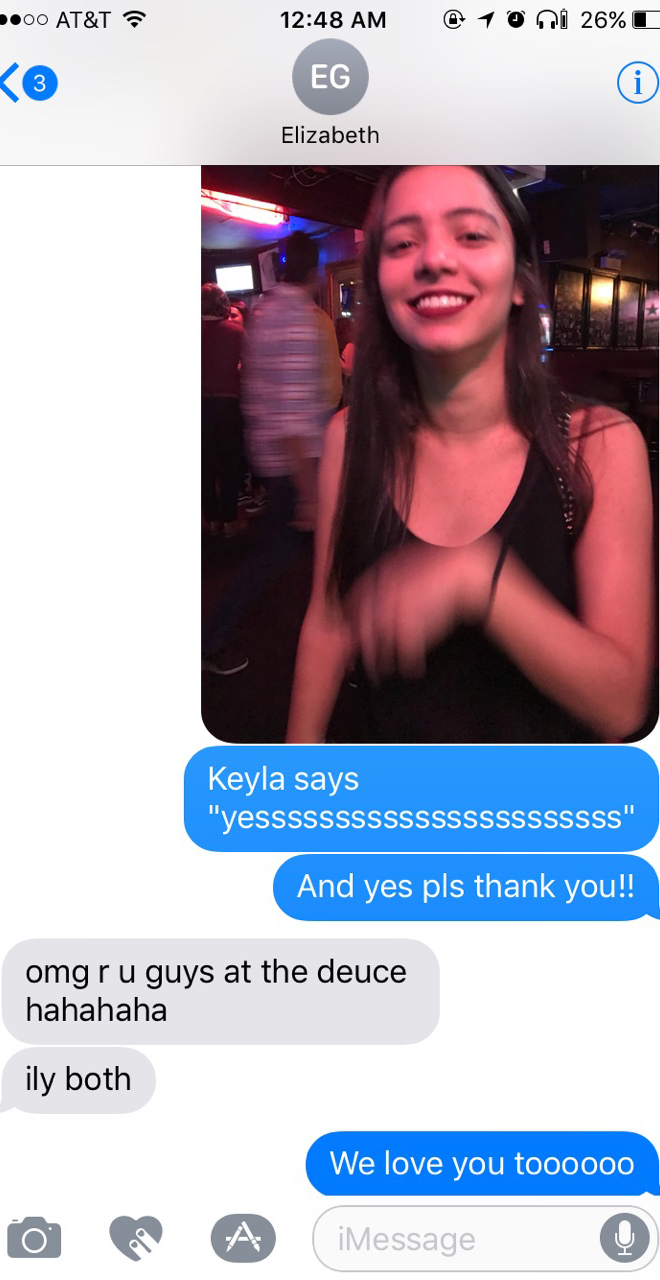 1:15 a.m.
We want pizza.
1:50 a.m.
We are back in the comfort of our own beds – post Cheesie's – and decide that it's time to reflect. It honestly wasn't as bad as we thought it would be. We think it may be more fun for freshmen, because they're still overly excited to meet new people. Also, they haven't sold their souls to Northwestern completely yet, so they have a lot of energy, as opposed to us tired, jaded sophomores. We kind of regret the fact we didn't go there last year!!! 8/10 would go again with a bigger group of friends.