As an avid makeup enthusiast, one of the things that I was most excited about when moving to the U.S. was Halloween. The October holiday that is so important for Americans is usually forgotten or deemed insignificant by most Brazilians.
As soon as October arrived, I began thinking about what makeup looks I could do for the big day. I decided to try some of these designs with the makeup I already had and found some helpful tutorials along the way.
First Makeup look: Lioness/Cat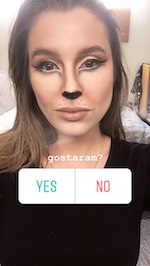 Tutorial: Lion Tiger Halloween Makeup Tutorial by "sonjdradeluxe" Description: This look is a perfect glam look for Halloween. The winged liner and the contoured skin add to the look's classic beauty, and the elongated inner eye and the black nose add a feline flair.
Success of the look: ⅘
Difficulty: ⅗
Hardest part: Elongating the eyeliner both in the inner eye and outwards. Adaptation from the tutorial: I did a cut crease with the bright cream shadow so it would pop more.
Second Makeup Look: Skull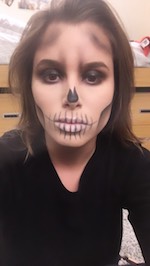 Tutorial: Easy Skull Makeup Tutorial by "Chrisspy" Description: A simple and powerful skull look that basically involves blending black eyeshadow all over the lid and crease, with liner on the nose and mouth.
Success of the look: 5/5
Difficulty: ⅖
Hardest part: Perfecting the lines in the mouth - though I used a pencil liner, I would recommend using a liquid liner instead, for added precision and lasting color. Adaptation from the tutorial: I used cooler tones gray and brown tones instead of the warm brown shades in the Youtube tutorial.
Third Makeup Look: Mermaid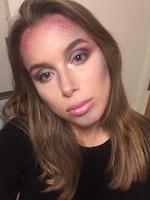 Tutorial: Easy Mermaid Halloween Makeup Tutorial by "RhiannonClaire" Description: Scales made by blending in bright colors, link pink, purple and blue through a fishnet stocking give this look the perfect mermaid aesthetic.
Success of the look: ⅖
Difficulty: ⅘
Hardest part: Keeping the scales neat and similar in size can be difficult, since you are using a fishnet.
Adaptation from the tutorial: Though I didn't use any of the glitter Rhiannon used in her look in an effort to keep it simple, leaving the glitter out left the look too basic. Also, I did add a purple eyeliner to the eyes to blend the purple and blue shadows a bit better.
Fourth Makeup Look: Pennywise from It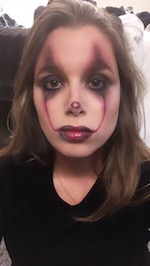 Tutorial: It Pennywise Halloween Tutorial by Tina Halada Description: This is a look that steers away from the other more glam and cute makeup looks and is scarier than the others. Overall, this look is made up of blending black and red eyeshadows and working carefully with red liquid lipstick.
Success of the look: ⅘
Difficulty: 5/5
Hardest part: Making the lipstick lines sharp, symmetrical and effortlessly blended to the black eyeshadow proved to be difficult. Adaptation from the tutorial: I did not include the little dots on top of the triangles in the forehead because that would've made the look more cute.
Fifth Makeup Look: Scarecrow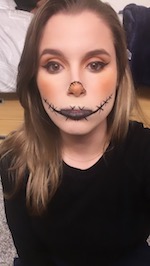 Tutorial: Scarecrow Makeup Tutorial by Alexa Garcia Description: This is a simple halloween look that mostly only uses one orange eyeshadow shade and a black eyeliner.
Success of the look: 5/5
Difficulty: ⅕
Hardest part: Trying to make both sides of the "mouth" equal and symmetrical was a little tricky; however, given that this mimics a scarecrow, proportions do not have to be exact.
Adaptation from the tutorial: I didn't include the freckles that Alexa drew at the end. Doing all of these looks was both fun and informative for me. I realized that Halloween makeup doesn't require anything other than basic products most people have, and also that themed makeup can be truly powerful.
Though I'm still unsure of what makeup look to wear out, I have certainly been inspired through this experience to continue trying and experimenting. Hopefully this has inspired you too! Happy Halloween!