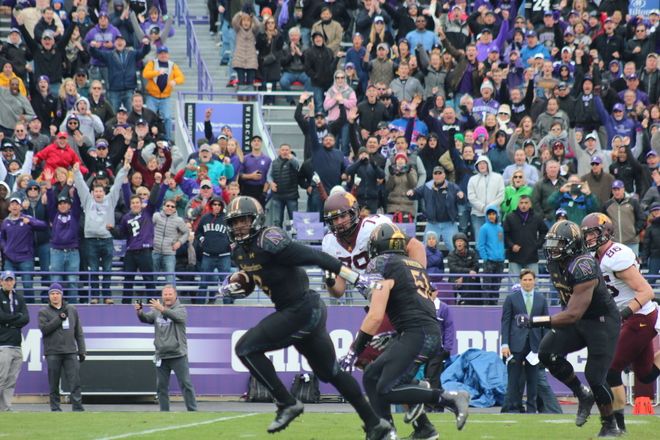 Our look at NU's defense/special teams is the second part of our football preview. The outlook on offense was featured on Monday. Next up, we have season predictions from our staff on Wednesday, and then a Get Home Safe podcast episode later in the week.
The Wildcats would be nothing without their defense. It was one of the best units in the country last year, and arguably NU's most dominant defense ever (at least since coach Pat Fitzgerald himself was wearing a jersey). NU's defense was stacked from top-to-bottom with playmakers: Dean Lowry, Deonte Gibson, Traveon Henry, Nick VanHoose, Anthony Walker and Matthew Harris, just to name a few. However, Walker and Harris are the only returners on that list, so the Wildcats will have some re-stocking to do. With a mix of established veterans and eager impact players, along with some "franchise" talent, the Wildcat defense is refined and ready to reclaim its spot as one of the country's best.
Defensive Line:
The success of NU's dominant defense started up front last year, in the form of now-NFL players and part-time monsters Dean Lowry and Deonte Gibson.
The bad news is that it's impossible to replace Lowry and Gibson, who statistically had two of the better seasons in NU history. But the good news is that the Wildcats kind of have a knack for creating beastly defensive ends, and senior Ifeadi Odenigbo and junior Xavier Washington are ready to become household names. They probably won't be as dominant as Lowry and Gibson, but those are extremely high standards. Odenigbo and Washington should be two of the top playmakers on defense, and they will certainly cause problems for opposing offenses.
Junior Tyler Lancaster and senior C.J. Robbins are back to plug up the middle, and should only improve on their more-than-serviceable contributions in the past. Senior Greg Kuhar and sophomore Jordan Thompson are also expected to provide the Wildcats with some depth up front. Despite the losses of Lowry and Gibson, the defensive line should be one of the Wildcats' strongest units yet again.
Linebackers:
This summer, there was a semi-ad campaign labeling junior Anthony Walker as "The Franchise." It was equal parts amazing, hilarious, inspiring and ridiculous.
But this is the bottom-line: Walker is the Wildcats' best, most important and most impressive player, and he might just be the best linebacker in the nation. Walker was a tackle machine last year, racking up 103 total tackles, 16.5 tackles for loss (fifth-most in country), 2.5 sacks and even an interception. He was also just named a preseason All-American. Walker is the real deal, and it will be very exciting to see what he can do this year.
To his side, redshirt sophomore Nate Hall and redshirt senior Jaylen Prater are no slouches. Hall impressed in the final few weeks last season, and ended with the fifth-most tackles on the team, even though he started just three games. Prater was well on his way to a formidable year before he suffered a season-ending injury. Both Hall and Prater will be improved, and back with Walker to strike fear in the hearts of NU's opponents every single week.
Defensive Backs:
NU gave up the fewest passing touchdowns in the country last year. This picture exists.
Give up the fewest passing TDs in the nation in 2015. ✅
Get a new nickname. ✅

(via @NUFBFamily) pic.twitter.com/hKLvpVg0vV

— ESPN CollegeFootball (@ESPNCFB) August 19, 2016
Despite the key losses of Traveon Henry and Nick VanHoose, senior Matthew Harris is an experienced veteran, ready to lead this group into battle. Junior Godwin Igwebuike, always lurking at safety, was second on the team last year with 87 tackles. Unfortunately, junior Keith Watkins II, who was supposed to take a huge step this year, suffered a season-ending knee injury in preseason practice. Sophomore Montre Hartage is expected to step up in his place, and Harris has taken him under his wing.
Junior Kyle Queiro and redshirt freshmen Trae Williams and Alonzo Mayo will also look to help out in the secondary. Don't expect this unit to be quite as strong as it was last year, especially with the Watkins injury, but it should provide a strong back-end to what will be another scary Wildcat defense.
Special Teams:
If senior kicker Jack Mitchell were a movie, there would only be one apt review: "We laughed, we cried." Mitchell has frustrated the Wildcats in the past, missing easy field goals and extra points, but then always seems to win hearts back with dramatic, I'm-closing-my-eyes-because-I-can't-take-this game-winners.
Mitchell used to play baseball as well, but now has quit the team, so maybe he's focused more on his craft and will become more consistent. Yeah, of course that won't happen, he's Jack Mitchell. We love him anyway. Junior punter Hunter Niswander was serviceable last year and should help the Wildcats win some field-position battles again, which I will enjoy almost as much as I enjoy hearing the name "HUNTER NICE-WANDER."
Solomon Vault broke some big returns last year, and he always has the potential to take one to the house. Speedy Miles Shuler, who was the Wildcats' main punt returner, has graduated, and Vault is not expected to be the man there. Look for a pair of sophomore wide receivers - Flynn Nagel and Jelani Roberts – to vie for the role of punt returner.
Join us Wednesday as we unveil our staff predictions for the season. Here's a look at NU's schedule in 2016 (home games in bold, at Ryan Field).
Sep. 3 - Western Michigan, 11 a.m.
Sep. 10 - Illinois State, 2:30 p.m.
Sep. 17 - Duke, 7 p.m.
Sep. 24 - Nebraska, 6:30 p.m.
Oct. 1 - at Iowa, 11 a.m.
Oct. 15 - at Michigan State, 2:30 p.m.
Oct. 22 - Indiana (Homecoming), 11 a.m.
Oct. 29 - at Ohio State, 4:30 p.m.
Nov. 5 - Wisconsin, TBD
Nov. 12 - at Purdue, TBD
Nov. 19 - at Minnesota, TBD
Nov. 26 - Illinois, TBD