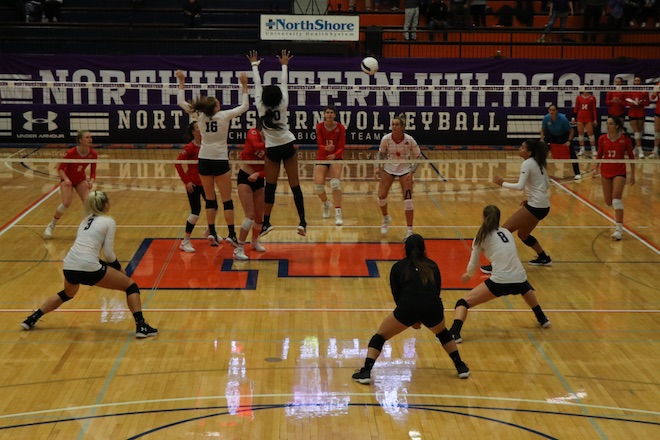 Northwestern needed momentum after a rough start to conference play, and last week, they got some.
Up against Iowa and Ohio State, two teams that join Northwestern in the lower half of the very competitive Big Ten conference, the Wildcats (13-11, 3-9 B1G) took two crucial wins to keep their hopes up on the season. The Wildcats traveled to Iowa on Wednesday and defeated the Hawkeyes (12-11, 4-8 B1G) in a close 3-2 match (25-15, 30-32, 25-18, 17-25, and 15-8) before taking down the Buckeyes (12-12, 3-9 B1G) on Sunday (25-15, 25-18, 25-20). The Ohio State match was Northwestern's final volleyball game played at Evanston Township High School, as the new Welsh-Ryan Arena will re-open to once again become the Wildcats' home.
Despite strong performances in the first three sets against the Iowa (two runaway wins and a nail-biter of a loss), the Wildcats were forced into another game 5 against the Hawkeyes this season. However, an impressive 9-2 scoring run gave the 'Cats the victory, their second Big Ten win in three games and first conference road win. A spirited defensive effort, led by Michelle Lee's 25 digs and Olivia Viscuso's 5 blocks, helped Northwestern keep rallies alive.
But the story of the night for the Wildcats was the attack. Nia Robinson and Alana Walker both achieved career-highs for kills (26 and 15, respectively) to lead the team over Iowa. Abryanna Cannon and Ella Grbac also pitched in with 12 kills each. And along every step of the way was Britt Bommer, whose 69 assists put her tied for 8th-most in a game in Northwestern history. Even the efforts of Iowa's Cali Hoye (30 kills to tie a career high) and Reghan Coyle (17 kills) weren't enough to put the Hawkeyes over the 'Cats.
BLOCKED 👋

Britt Bommer and Alana Walker give the #B1GCats a 5-4 lead with their stuff. pic.twitter.com/yj77MCC8Il

— Northwestern Volleyball (@NUVball) October 25, 2018
The team followed up their win against Iowa with a solid team effort against Ohio State. The Buckeyes, with a limited player count on their active roster, kept the first two sets relatively close until the 'Cats went on impressive scoring runs. The final set went neck-and-neck for much longer, but in the end Northwestern again prevailed for their third conference win in four games, following an 0-8 Big Ten start.
Walker paced the team with 10 kills, while Grbac (eight) and Robinson (seven) also made an impact. Kiara McNulty, filling in for Bommer, helped out with 23 assists. The team as a whole combined for seven aces in just three sets. On the other side of the net, Vanja Bukilic and Lauren Witte combined for 21 kills for the Buckeyes.
"It was great to be able to step in and help the team get the win, and the team really rallied around me and helped me out, so it was a really exciting feeling," McNulty said.
The team will travel next week to Maryland and Ohio State before returning to Evanston to open up Welsh-Ryan play against Penn State. Head coach Shane Davis said he is optimistic about the team's road ahead.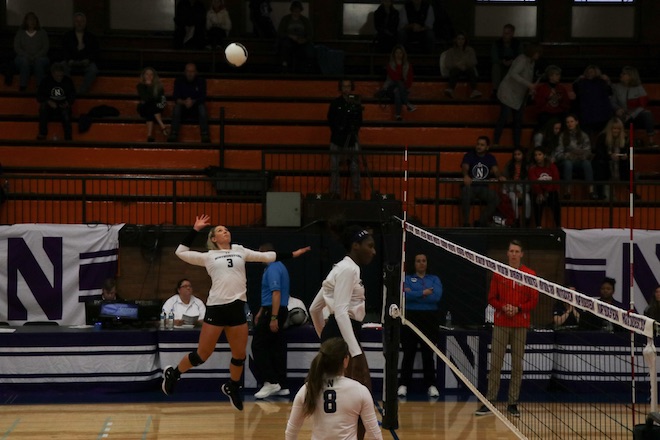 "I see us continuing to get better each week," Davis said. "We're continuing to get more and more healthy each week, which is a big key for us right now. And our young group, we're getting a lot of experience, so hopefully we should continue to get better each day, each match."
Most players on the young volleyball squad have currently never played in the Welsh-Ryan Arena, as Evanston home games since last season were played at Evanston Township.
"I think it's very exciting moving in to Welsh-Ryan," said Robinson. "The only time any of us sophomores or freshmen have played in there was at our camp, so to get back in there will be super exciting and we hope it gives us a good home atmosphere closer to campus, so more fans will be able to come out, and we're really excited for Nov. 6."