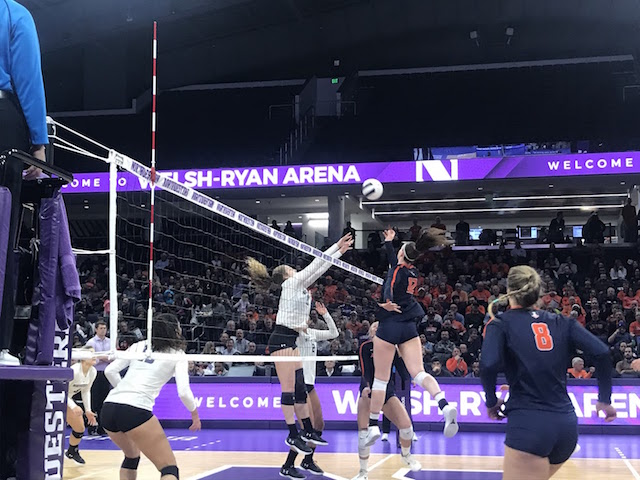 This past week Northwestern volleyball took on two top conference opponents, #4 Illinois and #7 Penn State. The Wildcats were outmatched in both games, with the Illini defeating them at Welsh-Ryan Arena 3-0 (25-16, 25-11, 25-14) and the Nittany Lions winning all three sets out east (25-6, 25-15, 25-17).
Northwestern headed into the Illinois game on Nov. 14 as victors of four of their previous six games, and early in the first set the night looked promising. The Wildcats initially went back-and-forth in points with Illinois, but the Illini eventually broke through with a seven-point streak, bringing a 12-11 NU lead to a 18-12 Illinois advantage. Leading attacker Nia Robinson, who had a rough night with just one kill, committed five attack errors during Illinois' run. Coach Shane Davis pinpointed his opening timeout during that run as the moment that changed the tides.
"After that, Illinois just went on a run, but it wasn't a run where they just took control," he said. "We started making errors, and we started playing with a little bit of fear for some reason, and that carried over into sets two and three."
Those next sets clearly showed change. Never did the Wildcats come out of the gates matching Illinois' strength, evident in the Illini's .408 hitting percentage compared to NU's -.025 mark. During the second set the Illini were notably able to nab a few narrowly-in-play kills, and in the next set, the 'Cats fell into a 14-3 hole to start. The team did manage, however, to prevent the set three lead from getting further out of hand. Abryanna Cannon finished with six kills, the team's most, while Alanna Walker managed five out of Northwestern's total of 18.
"I feel like there's definitely more to be desired," said Britt Bommer, who had 15 assists in her first game back from injury since her career-high assist performance against Iowa on Oct. 24. "I feel like I could've brought more, but I feel like there's nowhere to look but forward for now, and coming back, I can't rest on any laurels, and it's an everyday grind…"
Make that 1️⃣0️⃣-straight wins. 🔥🏐🔥#ILLINI pic.twitter.com/Tfxt821Sv1

— Illini Volleyball (@IlliniVBall) November 15, 2018
Three days later, Northwestern traveled out to Penn State looking for the upset. However, the team ran into trouble quickly: the Nittany Lions went on a dominating 14-0 run to win the first set in convincing fashion, and the Wildcats looked out of it against a opponent strong at both attacking and defending. Ella Grbac especially had a tough time during the first set, hitting -.333 percent with six attack errors and just one kill.
Though the 'Cats would play stronger in the next two sets, it wasn't enough to overcome Penn State. Both teams played each other close initially in sets two and three, but eventually the Nittany Lions would pull away in each. Robinson was a bright spot for Northwestern as she tallied 11 kills to bounce back from a disappointing one-kill performance against the Illini.
Northwestern will close out the season next week with their final conference matches. The Wildcats play at Michigan on Nov. 21 before facing off against Indiana two days later at Welsh-Ryan.