Playing against Big Ten opponents Minnesota and Purdue in a three-team meet on Jan. 26-27, Northwestern proved it has a
long way to go
.
The men's team (4-9, 0-4 B1G) lost to Minnesota 93-258 and to Purdue 88-256, while the women (6-5, 3-3 B1G) fell to the Golden Golphers, 70-283, and to the Boilermakers, 84-269. The meet, which took place in Minneapolis, saw the men's and women's teams fail to produce a single first-place win in any event. Their A and B teams in relay events failed to place better than their opponents' A and B teams, respectively, which highlighted the Wildcat's struggles.
The most successful Northwestern swimmer of the meet was junior Olivia Rosendahl, who earned two second-place finishes in the one-meter and platform diving events, and placed third in the three-meter. Two other notable performances on the women's side were first-year Ilektra Lebl, who placed second in the 400 individual medley, and senior Mary Warren, who came in second in the 50 freestyle.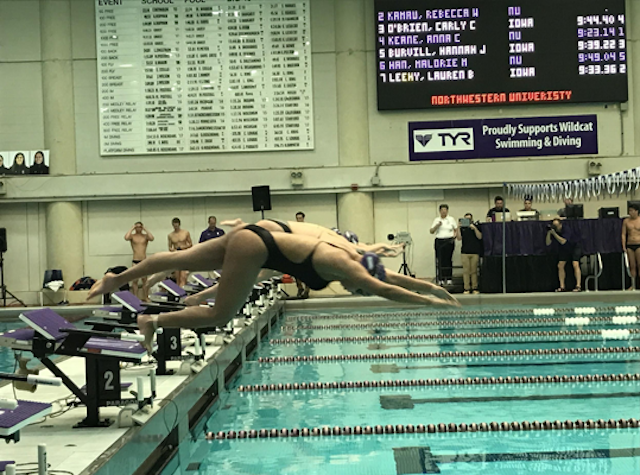 The men's team had two event runner-ups: senior Almog Olshtein in the 50 free and first-year DJ Hwang in the 1000 free. Olshtein also tied his – and the team's – best time for the 50 freestyle this season, finishing in 20.58 seconds. Junior diver Ben Magliato set career records in the three-meter and platform diving with scores of 326.55 and 282.60, though was unable to secure a top three finish for either event.
Overall, the triple-dual meet was not kind to the Wildcats. If there's reason for Northwestern swimming and diving to stay optimistic after the tough losses, however, it can be found in their time to prepare for the future. The Big Ten Championships will take place in mid-February, with the women's teams competing at Ohio State from Feb. 14-17, and the men's teams facing off at Minnesota from Feb. 21-24.