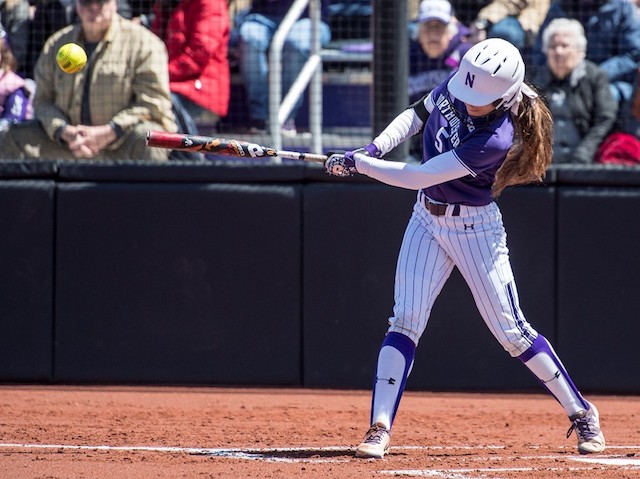 There are two things you can be sure of at Sharon J. Drysdale Field: foul balls flying beyond the safety netting and forcing attendees to take cover, and a hungry Northwestern softball team looking to notch a W.
They took 3 of 4 W's, in fact, in their final home games of the season versus Loyola-Chicago and Iowa. The Wildcats (32-14, 13-6 Big Ten) defeated the Ramblers (22-25) 4-1 while winning two of three (4-1, 0-3, 6-2) against the Hawkeyes (20-28, 6-13 Big Ten). The team will play its next away game at DePaul before taking on a weekend series against Wisconsin to close out the regular season.
The Wildcat pitching was strong throughout the series, allowing a total of just seven runs through 28 innings. Morgan Newport threw for one of her best games this season against Loyola, allowing three hits while getting seven strikeouts. Kenna Wilkey earned both Wildcat victories over Iowa, giving up only eight hits total and even putting in work behind the plate (2 RBI on Sunday).
"I think we battled back from yesterday," said Wilkey after Sunday's game, "because yesterday was kind of a big loss for us, and I think we really capitalized today and we showed them that it doesn't matter, we're gonna come back and we're the stronger team."
Kenna Wilkey helps her own cause! A two-run double in the third!!#B1GCats 5, Iowa 0 | T4 pic.twitter.com/3BMLzDT6AH

— NorthwesternSoftball (@NUSBcats) April 29, 2018
Asked about how the team has developed throughout the season, Coach Kate Drohan brought up the senior and first-year players. "Our seven seniors have had tremendous, tremendous leadership moments, and then our freshmen have really grown up quickly," she said. "The combination of upperclassmen who are setting the tone, their work ethic is incredible, and the freshmen have been really vulnerable and opened themselves to learning and being coachable. I think that's been the best growth that I've seen."
Senior Day is always a Special Day at The J. Enjoy the feels from a great crowd and a #B1GCats win!

📰» https://t.co/EWQyWSpjobpic.twitter.com/mMtU7sWhpB

— NorthwesternSoftball (@NUSBcats) April 29, 2018
Senior star Sabrina Rabin, who had five hits during the week, reflected on the impact she hopes to have had on the returning Wildcats.
"I really just hope that I'm challenging them and that I'm setting a good example, whether it's my work ethic or just being a competitor out there," Rabin said. "They're great players on their own and I hope that I made an impact."