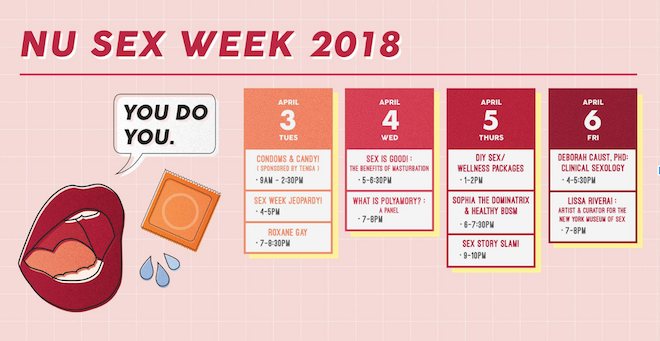 Northwestern University's annual Sex Week kicked off this year with mountains of condoms, lube samples, Tenga Eggs, colorful cock rings, genital chocolates and everything titillating that students definitely did not expect walking into Kresge on a Tuesday morning.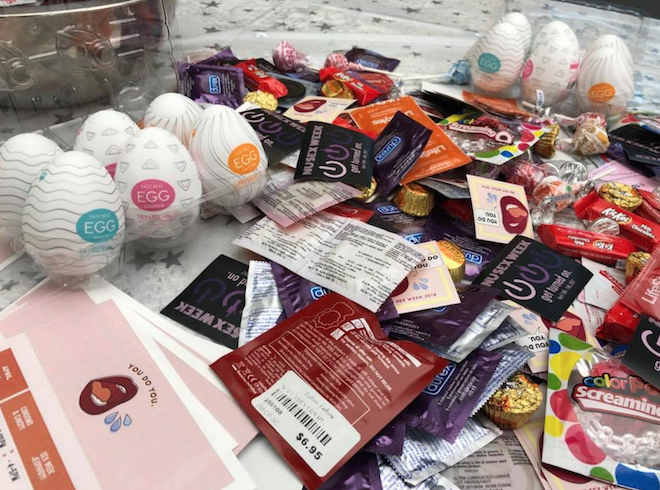 This year's director, Caitlin Capriotti, described the long process behind bringing Sex Week to life, explaining, "Although planning was incredibly stressful, I had a lot of fun organizing events for an organization I am passionate about." Capriotti added, "There is no way the week could have come together without the help of my amazing board." While Sex Week is sometimes written off as too controversial, as noted by publications ranging from Breitbart, the Daily Mail and threats by a Christian organization on Facebook, Capriotti was unwavering in her confidence of the week's events. She shared that, "Our hopes for the event are the same as every year: to push the conversation about sex forward. Sex Week is meant to get people talking about sex in an environment they feel comfortable in, and I think we achieved that".
Every year, the Sex Week team aims to bring a variety of sex-positive events and guest speakers who are experts in the field of sex. Some notable guests include, "the Grapefruit Lady" and Jacq the Stripper. This year, Sex Week partnered with College Feminists and the Contemporary Thought Speakers Series to bring Roxanne Gaye, The New York Times best-selling author of Bad Feminist. Gaye pleased the sold-out audience with her hot takes on everything ranging from her love of HGTV to the struggles that come with being a queer, black female writer in America.
On Thursday, local dominatrix and Chicago Dungeon Rentals owner, Lady Sophia, spoke to students about how to negotiate and navigate a new BDSM lifestyle or relationship. Students learned how to explore their partners' interests, their own role in BDSM and how to get creative with or without toys.
On the final day of the week, Debora Bay brought an academic angle on Sex Week. Bay, a Chicago sexologist, came to share her answers to the most frequently asked questions from her patients.
Aside from speakers, throughout the week students were invited to compete in Sex Jeopardy, with questions ranging from "porn searches" and "human anatomy" to "Cupcakke lyrics or porn title?". On Thursday, students were also able to assemble their own DIY sex/wellness packages, filling it with condoms, lube, face masks and even body glitter. At night, students were invited to share their best, weirdest, worst or funniest sex stories, reminding all of us that while everyone's academic prowess is certain here, their sexual prowess is not.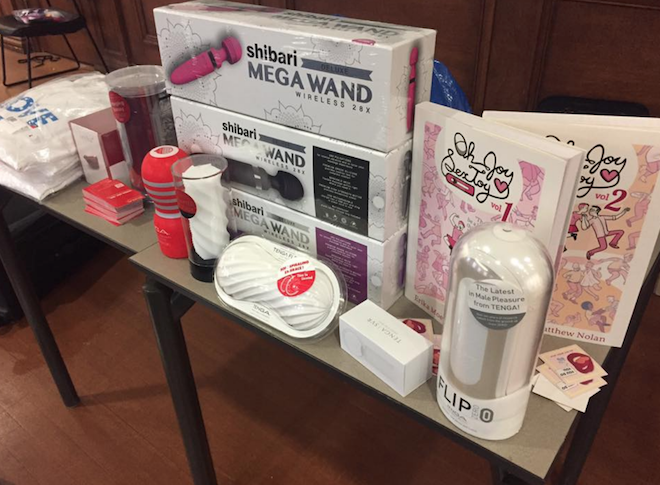 To wrap up this very exciting and, at times, controversial, week, Lissa Rivera, artist and curator of the New York Museum of Sex, came to share her experiences working at the museum and gave the crowd a rare insight into what happens behind the scenes in of the most, if not the most, titillating museum in America.
Sex Week will return next spring with even more sexy events and speakers. Have an idea you would like to see brought to life in Sex Week 2019? Click this link to share!
Editor's Note: The Mistress is involved in the planning of Northwestern's Sex Week.