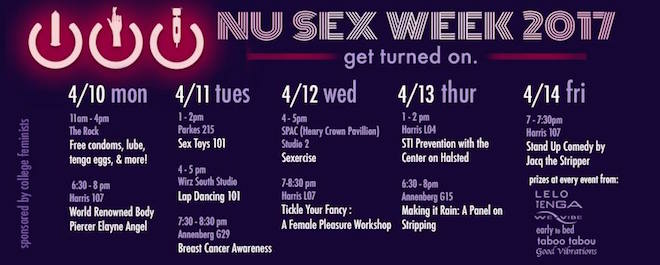 It's that time of year again: this week, College Feminists is hosting NU Sex Week 2017. The week will feature events and speakers dealing with themes such as safe sex, sex positivity and pleasure. They will also be giving away luxury sex toys valued anywhere from $80 - $140 at all of their events.
Wan Kwok, a Weinberg senior and one of NU Sex Week's organizers, says she's excited for Northwestern students to have an opportunity to take the taboo away from talking about sex.
"To me, the most important part about NU Sex Week is that it sparks frank conversation about sex," Kwok said in an email to NBN. "Sex is a funny topic – so much of our lives are centered on it and yet it's also taboo and shameful. When sex is shamed, there can be unnecessary consequences like injuries and mental stress which could all be avoided through a sex positive atmosphere."
Here are all the events on campus you can't miss this week.
Monday: Free giveaways and Elayne Angel
From 11 a.m. - 4 p.m., College Feminists will be giving away free condoms, lube and Tenga masturbating eggs at the Rock. At 6:30 p.m., author of The Piercing Bible and professional piercer Elayne Angel will give a presentation in Harris 107. Angel specializes in genital piercings and has performed over 40,000 piercings since the 1980s.
"I'm most excited for Elayne Angel," Kwok said. "[She] is one of the most respected piercers in the world, and basically wrote the book on safe body piercing. She has so much experience and her presentation is going to be very thorough. I just picked her up from the airport yesterday and she told me about how she regularly speaks to medical associations on the topic of caring for patients with piercings."
Tuesday: Lap dancing and breast cancer awareness
At 4 p.m., an expert will teach "Lap Dance 101" in Wirz Studio, and you can come hear from someone who had a preventative double mastectomy at 7:30 p.m. in Annenberg G29.
Wednesday: Sexercise and female pleasure
A body positive class from 4 - 5 p.m. in SPAC will train the muscles you'll use most in your next sexual encounter. After working on your ~flexibility~, head to Harris L07 at 7 p.m. to hear some tricks from Early 2 Bed educator Searah Deysach on how to maximize female pleasure and get the most out of masturbation.
Thursday: STI prevention and stripping
Head to the Midwest's largest LGBTQ health center, the Center on Halsted, at 1 p.m. to learn about safe sex. Later that night, "Make It Rain" panelists Jacq the Stripper and Electra Rayne will share their stripping experiences and answer audience questions starting at 6:30 p.m in Annenberg G15.
Friday: Jacq the Stripper
From 7 - 7:30 p.m. in Harris 107, feminist stripper Jacq the Stripper will perform a comedy routine based on her past stripping encounters. Jacq is the author of comedic book STRIPTASTIC! and is known for her hilarious performances.
College Feminists will be updating their Facebook page throughout the week with any changes or updates in the events.
"I hope students learn more about all the different aspects of sex and sexuality," Kwok said. "There's kink and genital piercing and stripping and more! These are fascinating topics with their own subcultures. I hope looking at these topics and the communities associated with these topics causes students to examine their own perceptions of sex and sex-related subjects."