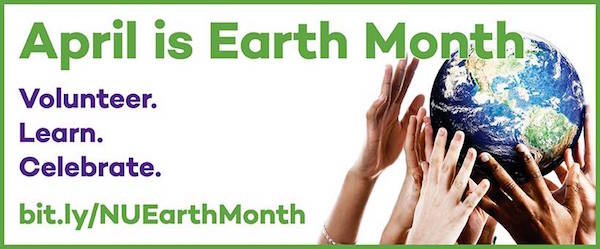 If you're a recycling fiend, a tree hugger or just a general Earth appreciator, this week is for you: SustainNU and other organizations are hosting a variety of events to celebrate Earth Week, where you can showcase your love for the planet. These opportunities are designed to engage students in sustainability and teach them how to better protect the environment, and include activities ranging from tree planting to making protest signs.
Tuesday: Tree Planting for Earth Day - The Rock, 9 a.m. - 1 p.m.
If you're interested in getting down and dirty for the Earth, head to the Rock to plant a tree at either 9 a.m. or 11 a.m.. Professors will be there to teach students about urban foresting, and pizza will be served. (Make sure to wear clothes and shoes that are dirt-friendly!)
Thursday: Signal and Noise in Our Weather and Climate - Buffett Institute, 6:30 - 7:30 p.m.
This event will feature WGN-TV meteorologist Tom Skilling, University of Illinois professor Don Wuebbles and Senior Fellow at the Chicago Council on Global Affairs Karen Weigert as they discuss their takes on environmental policy design and implementation.
Thursday - Friday: Mount Trashmore - Lunt Hall
To demonstrate how much trash people waste in a 24-hour period, SustainNU will gather trash collected from campus in a single day and pile it on the lawn in front of Lunt Hall in this Earth Week fan favorite. Reusable items will be redistributed to reduce waste.
Friday: Pre-March for Science Forum & Sign-Making - Fisk 311, 3 - 5 p.m.
Since Chicago's March for Science is on Saturday, this event is designed to prepare students for the protest. Northwestern science professors will give their takes on environmental issues, and there will be coffee, donuts and plenty of sign-making materials.
Saturday: Clean Up Evanston - Dawes Park, 8:30 a.m. - 12 p.m.
Northwestern's Graduate Student Organization is partnering with YourLife Wellness Program and the City of Evanston to host a park cleanup day. Volunteers will mulch trees and pick up trash along the lakefront, and breakfast will be provided. Sign up here to participate.
Saturday: Earth Day Water Talks - Swift Hall, 2:30 - 3 p.m.
If you're interested in water, these Water Day talks will feature several members of the Northwestern community (including SESP senior Forrest Bruce) who will talk about the different roles water plays in our lives. From being the focus of academic research to being considered art, come learn about all the ways to appreciate Earth's most valuable resource.