Predictions:
Jono Zarrilli - 13-4 regular season, Big Ten semifinalists, NCAA quarterfinalists
Charlie Sidles - 13-4 regular season, Big Ten champions, NCAA Final Four
Shreyas Iyer - 13-4 regular season, Big Ten finalists, NCAA quarterfinalists
Trevor Lystad - 12-5 regular season, Big Ten finalists, NCAA Final Four
Jacob Munoz - 12-5 regular season, Big Ten finalists, NCAA quarterfinalists
Analysis:
Entering the season ranked the 11th best team in the nation, Northwestern womens lacrosse will continue to have their eyes fixed on a goal that has eluded them since 2012: a national championship. While the team will have a formidable slew of opponents this season – 10 of whom qualified for last year's tournament – seven-time head coaching champion Kelly Amonte Hiller will continue to guide the helm. Hiller, who was recently announced as the coach for the U.S. national U-19 team, hopes her team that returns most of its players from last season will be able to bring the title of champions back to Evanston.
Christina Esposito and Catie Ingrilli mark two big departures this year. Both finished in the top three of points scored for Northwestern last season, meaning it will be up to the Wildcats' new seniors, among them Sheila Nesselbush, Nicole Beardsley and Shelby Fredericks (who scored the most points out of last year's juniors) to take over scoring responsibilities. They won't do it alone, however; they will have returning senior Danita Stroup (who scored the second most goals last season), junior Selena Lasota (who, in six games, leads all Wildcats in points by a significant margin) and the rest of their younger teammates.
Overall, the team has the qualified leaders for a return to the playoffs, and Hiller believes strongly in them. "We have a great group of leaders," she said. "It's not necessarily one player in particular. It started with Danita and Sheila and Shelby in the summer working to set the tone of what we wanted. Then Selena and Holly Korn and Megan Kinna and Lindsay Darrell and Ally Mueller. … We have emphasized that it's not about the label of a captain. If everyone leads themselves, it makes a big difference for this team."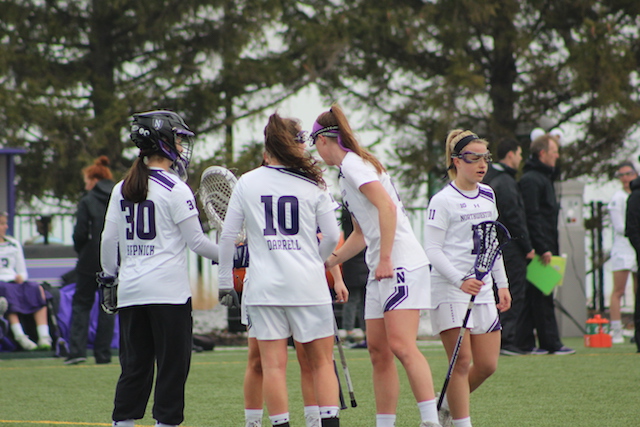 Hiller also praised the collective state of her players. "This team has a great vibe about them," she said. "They've done a great job taking ownership of this team and leading. … This team has more depth than the team we had last year."
Still, Northwestern will have to prove themselves worthy after a less-than-perfect season last year. The team finished 10-9 in the regular season (albeit with a tough schedule) and was defeated in the second round of playoffs by 8th-seeded Stony Brook. While their exit wasn't exactly surprising – Stony Brook, ranked No. 2 in the 2018 preseason, later lost to top-seeded Maryland, who headed to their fifth-straight championship game – it showed that improvements needed to be made if they were contend with the best in the nation.
On facing top teams, Hiller said, "The biggest thing in general this team needs to do is stay focused on today and get better every day." And though they were unable to pull off a victory against a No. 1 Stony Brook team in early March, the Wildcats took down highly seeded USC just a week earlier and have plenty of season left to upset the nation's best programs.
In addition their potent attacking senior core this season, Northwestern has juniors Lasota and Elder, both of whom contributed greatly in points last season, and are expected to perform well. Senior midfielder Nesselbush had the fourth-most goals in 2017 and will be a rock for the team to rely on, and sophomore Kinna will look to build off of a strong freshman year.
On the defensive side of things, junior Nell Copeland had the most forced turnovers among all defenders last season. Though goalie Mallory Weisse had a rough .432% save percentage from 2017, which was below Northwestern's opponents' .502% average, the 'Cats also have freshman Julie Krupnick to count on, who shined in ranked games versus Duke and USC and looks poised to be a integral part of the team moving forward.