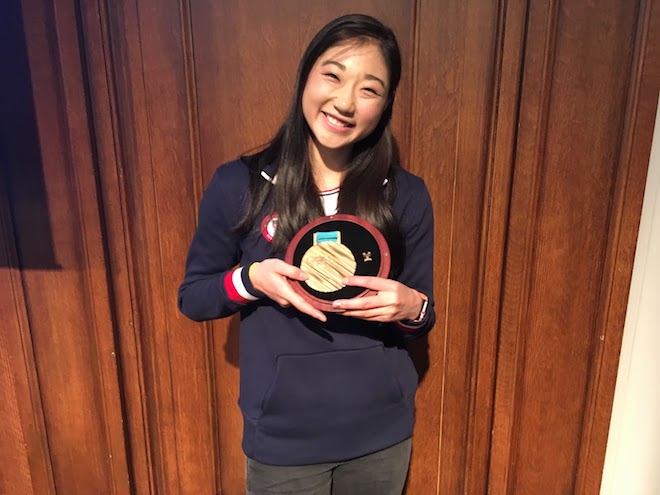 Mirai Nagasu may be a world-renowned Olympic figure skater, but in front of more than 100 people in Harris Hall on Saturday, she shared some of her deepest personal struggles.
Nagasu, 25, became a household name at the PyeongChang 2018 Winter Olympics when she became the first American woman to land the triple axel at the Olympics and took home bronze. Northwestern's Chinese Students Association invited Nagasu, hot off Dancing with the Stars, as their fall speaker on Nov. 10.
CSA leader and Weinberg student Eric Yang said CSA had been trying to get an Olympic athlete to come since last spring. Nagasu was one of 14 Asian Americans on the 244-member U.S. team in 2018.
"I've always wanted to hear about what an Asian American on the big stage has to to say, hear her experiences and see what I can learn from her as an athlete and Asian American," Yang said.
When Nagasu landed her triple axel she had suffered a painful labral tear that chipped away at her hip bone for two years. The triple axel is a legendary figure skating move in which the skater takes off forward on the outer edge of one foot, then, turning backward, makes three and a half super fast turns and then lands backward on the ball of the opposite foot. She said she did not tell the media about her injury until afterward, because she didn't want them to see "there was a crack to the armor."
Throughout the discussion, she told stories about deeper cracks in her armor and her ongoing struggle with self-confidence.
"Skating is everything to me, but at the same time, it has caused me so much pain and anxiety," Nagasu said.
Nagasu was born and raised in Southern California, the daughter of Japanese immigrants who ran a "hole in the wall" restaurant. They planned for her to become a professional golfer, but she preferred the ice rink. Though her parents could barely afford her skates, Nagasu trained intensively from a young age. She recalled wanting to have sleepovers and hang out with friends as a 10-year-old, but her parents instilled in her to train alone for three hours a day instead.
In a sport where judges place weight on appearance, Nagasu said she had low self-esteem, especially concerning her weight. She said said that her mother often reminded her to stop eating and called her fat. For years, Nagasu coped by binging chocolates and snacks.
Nevertheless, Nagasu doubted if she would be successful without all the pressure her parents applied. "I think that pressure made me the skater that I am today," she said.
Despite her low self-esteem, Nagasu thrived on the ice. At 14, she became the second-youngest woman to place first in national competition at the senior level. At 16, she placed fourth in figure skating at the Vancouver 2010 Winter Olympics. Even though she earned third place at the U.S. Figure Skating Championships in 2014, the U.S. Olympic team chose the contestant in fourth place to compete in the winter games.
Nagasu says she struggled to respond to the devastating outcome.
"As an Asian American, I find it hard sometimes for me to speak my words. I feel like my parents have raised me to be quiet and to accept hits as I receive them, instead of being able to voice my opinion," she said. "The American in me was like, 'This is so wrong. I need to stand up for myself.' My parents were like, 'Mirai, if you really want to go to another Olympics, you just need to take it and move on. Be a better person who they can't say 'no' to.'"
While Nagasu took her parents' advice, she went through a dark time. When an audience member asked how she coped with her depression, she said her dog, Lincoln, kept her going.
Nagasu had a psychologist and life coach during the Olympics, but she said her one regret is not having a PR person to filter the outside world on her social media. She said that social media still negatively impacts her self-esteem and that she frequently experiences FOMO.
"I think that as a female athlete, we're told we have to be perfect, look perfect, act confident," Nagasu said. "I do those things, and they help me become the competitor that I am out there.hen I'm on the ice, I tell myself that I am the baddest B around...but off the ice and at home, I struggle."
She said that she sometimes feels uncertain in things that she is good at besides skating, and she was inspired by the way Northwestern students could balance so many passions. She said she enjoyed her college experience for a day, especially seeing Refusionshaka on Friday.
"She's such a down-to-earth person. She fits right in with us," Yang said. "She was really like an honorary club member for the day."
Nagasu now takes classes at Ullens Center for Contemporary Art in Beijing and is exploring a career in public speaking. Though she will not compete in the Beijing 2022 Winter Olympics, she said she would continue to work in the figure skating community.