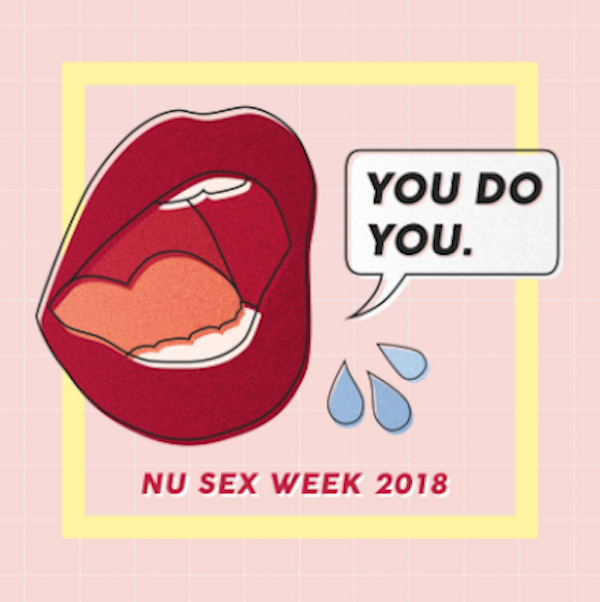 Are you ready to get turned on?
Northwestern University's Sex Week is back this week! Sex Week is an annual week-long event promoting sex-positivity through workshops, guest speakers, panelists and fun events and games. Northwestern is only one of the universities hosting this fun annual event. What was started by Yale students in 2002 is now being hosted throughout the nation in universities such as Harvard, Brown, Emory and the University of Chicago.
Here are the exciting events happening throughout the week. Invite your friends and share them on Facebook – we even heard there will be sexy prizes worth hundreds of dollars at some of these events ;)
Due to privacy concerns, check this link for locations of our events!
Tuesday, Apr. 3
Condoms, Candy and Tenga Toys at Kresge!
9 a.m. - 2:30 p.m.
To kick off Sex Week 2018, Sex Week is handing out free condoms, candy and Tenga eggs at Kresge. Drop by to grab some awesome free swag and get a schedule for the rest of the week!
Sex Week Jeopardy
4 - 5 p.m.
Sex Jeopardy sponsored by Tenga! Come prove you're a sex aficionado for a chance to win sex toys and other exciting prizes!
Roxane Gay
7 - 8:30 p.m.
Roxane Gay, a New York Times best selling author known for her works on feminism, will give a talk co-hosted by College Feminists.
Wednesday, Apr. 4
Sex is Good!: The Benefits of Masturbation
5 - 6:30 p.m.
A talk by Early to Bed, a local sex shop, about the benefits of masturbation.
What is Polyamory?: A Panel
7 - 8 p.m.
What is polyamory? Come to a panel about polyamory with real life polyamorous couples on campus.
Thursday, Apr. 5
DIY Sex/Wellness Package
1 - 2 p.m.
Come build your own sex/wellness packages filled with condoms, lube and sex toys for those Thirsty Thursday nights when you'll be thankful you have these in your room ;)
Sophia the Dominatrix & Healthy BDSM
6 - 7:30 p.m.
Sophia the Domme, a local dominatrix with her own dungeon in the Chicago area, will host a Q&A panel and talk about negotiating a scene and starting a BDSM relationship.
Sex Story Slam!
9 - 10 p.m.
Come share your wildest, funniest, saddest and weirdest sex stories over free food and drinks with other Wildcats! Have you ever had sex in the Norris back staircase? In Tech? Tell us about it. The best and worst stories will win prizes.
Friday, Apr. 6
Deborah Caust PhD: Clinical Sexology
4 - 5:30 p.m.
Deborah Bay, Chicago sexologist, will be talking about questions she frequently gets in her practice, and will answer any questions from the audience.
Lissa Rivera!: Artist & Curator for the New York Museum of Sex
7 - 8 p.m.
Lissa Rivera, artist and curator of the New York Museum of Sex, will give a talk about her experience curating various exhibits such as NSFW: Female Gaze, currently exhibiting at the museum.
We really hope to see all you Wildcats come out to these sex positive and informative events! Aside from being fun, and the chance to win amazing prizes, it's important, especially in the recent climate of our society, to understand how to be open about our sexualities and feel comfortable expressing ourselves. You never know, maybe you'll learn something new about yourself, or just have a great time with your friends at our special events!