Hi Mistress!
I've only ever been sexually involved with someone who I was dating. I'm not looking to date anyone for a while, though, but I still want to have sex. How do I have a hookup, and how do I do it well? No Strings Attached (Fwiw, I'm a gay cis guy)
Welcome to the exciting, upsetting and confusing world of hookup culture. I get where you're coming from. I was (and am) in a long term open relationship before I started sleeping around. It definitely is an odd transition. According to a sociology paper on college hookup culture (I know this isn't an essay, but bear with me), the last, and most important step to having a proper hookup is to establish meaninglessness. Through my experiences with hookups – one night stands and repeat customers alike – I have found that it is very, very crucial to keep it casual. I personally despise this, except when I'm the one being attached to and I don't care about the person. Sex can be as meaningful or as meaningless as you want it to be, but I think there's nothing wrong with respecting the person you choose to share your bed with for a night or for a year. There really isn't anything specific I can tell you that would help you have the perfect hookup, as I find that it varies from person to person and from experience to experience. Just make sure you are ready for this lifestyle, and never allow yourself to feel pressured in any way to engage in casual sex when you're not 100% DTF. Be respectful, be safe and communicate. Sleeping with someone for the first time carries a lot of unknowns, but it can definitely be enjoyable and a chance to explore your own sexuality and desires. Don't worry, No Strings Attached. I believe in you. Plunge head (or ass) first into this new adventure.
Mistress,
I've been "out of the game" for a significant while as I worked on myself as a person. I've reached the emotional point where I feel ready to start loving and lusting again, but there's a dual problem. Firstly, I wasn't the most experienced in the past to begin with. Secondly, I've definitely gained some weight since then, and while my wit has grown, so has my waist. I'm not a cynic, but I'm also reasonable enough to know appearance matters when it comes to this game. How should I approach dating, and in particular, hookups, from my current plus-sized position?
Thank you!
I first want to say I'm so proud of you for taking some time off to work on yourself. After being in relationships with people with many, many different baggages either from past relationships or, in my case, deep-seated trauma from childhood, I can definitely say that people should work on themselves before being in or looking for relationships. I'll answer your questions in two parts.
First, in terms of experience, you need not worry. Most people out there are equally or even more inexperienced, but no one is brave enough to admit it. The only way to become 'experienced' or a 'good lover' is by experimenting and figuring out what feels good to you, and what you enjoy doing to your partner(s). Also, communication is key. I know that sounds so cliche, but it's true. If you don't speak during sex, then no one will know what's working and what isn't. I would encourage you to watch porn, read erotica, talk to your friends about their sexperiences or just google some fun sex things to read. This segways to my second answer. I have struggled with body image issues for a while, even now when I am comfortable in my abilities in bed. This may sound trivial, but I would encourage you to 'feel yourself.' This could be literal, as masturbating and letting yourself enjoy pure sexuality can also help you gain experience. Other tactics include buying sexy lingerie or underwear, taking nudes for yourself or for trusted partner(s) and even joining a fun nudes/selfie sharing group on Facebook. Personally, I'm in a group called "Your Desire for Selfies are Bad, but Here's Another Group." These small things may not yield instant results, but they could because I have definitely had my confidence instantly boosted from a bangin' nude and some compliments.
It is unfortunate that it feels like there should be a distinction between normal dating/hookups and plus-sized dating/hookups, but I know that there are many people out there who appreciate plus-sized partners. Check out some dating apps like Tinder and Bumble and see where that takes you. Remind yourself that you are beautiful and worthy of great sex and relationships. Sometimes just doing little things like this can really help in the long run. Keep your chin up, let that wit soar and remind yourself that we all have erotic capital. You just have to find the right market.
Best places to have sex/hook up on campus?
Hmm... to be honest, I haven't explored public sex much on campus. I've had several run-ins with the law when it comes to frolicking where I shouldn't be, and let's just say I'm traumatized. However, I have heard that the back stairs of Norris and basically anywhere in Tech is good, because it is an abyss and you won't get caught. I would just advise not doing it in your dorm – even if it is a single – because I'm such a lazy ass and I know I won't ever change the sheets. Anyway, there is this one place I've been dying to fuck in.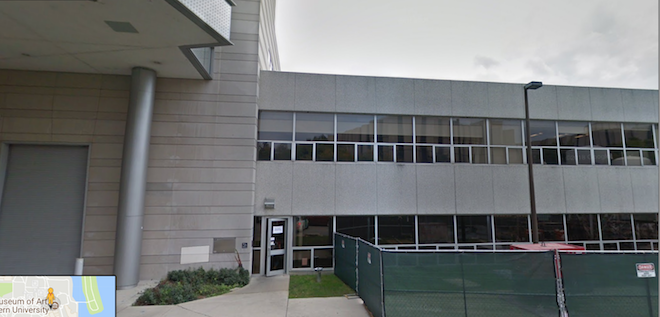 The Barber Theater – at least I think that's what this is. Theatre majors, help a girl out. That back door pictured above and the stage door are usually unlocked. So if you want to have some steamy, passionate and wild sex on a completely dark stage, potentially with me and *insert man/woman here* on the other side of the room, check it out.
What's the best app to use to engage in strictly casual hook ups?
Tinder, hands down. And before you say "Dear Mistress, that's a lame answer," let me tell you that I have tried almost every single popular dating app on the market, and I haven't had as much luck with any others like I have with Tinder and Bumble. I even came across this one app, Pure, that was touted to be a fast, casual and titillating hookup only app. It was complete with anonymous phone calls, chats that disappear after an hour and a temporary profile that only appears when you're on the market for some action. Sadly I think I was the only female-identifying person on there, so I would not recommend the app (no matter how adorable their sexy demon cartoons on the App Store are). Tinder has a plethora of people to cover every possible type and preference you could want. I would say that Bumble has better looking people and generally better conversations, however, I think there's still a stigma attached to Bumble that it's more for relationships. The world (or Chicago and its suburbs) is your oyster. Seek out fun and safe hookups beyond campus and Evanston – that's how I found my best fuck buddies. Good luck and have fun!
Like what you heard from me? Or not? Let me know, and send in more fun questions and I'll get back to you as soon as possible!
Or talk to me privately here! I don't bite, I prefer to whip :