While everyone was at the beach this Memorial Day weekend, your wholesome Mistress was out in the 'burbs, more specifically, Lisle, Illinois, volunteering at a BDSM conference.
RopeCraft is a biannual rope-tying convention – and not the Boy Scouts kind, although being in the Boy Scouts as a child is a pretty common theme among experienced riggers.
I was nervous and apprehensive about attending my first BDSM convention, despite having participated in the lifestyle for four years. We just didn't have these events back home, or at least none that weren't Earth's mantle underground. Having been invited by a local rigger (someone who ties) and his professional Dominatrix partner to the event, I simply had to go. Volunteering for the event also meant I was able to join classes for free, so it's a win-win.
via GIPHY: An actual image of me during one of my scenes (A BDSM session that can be sexual or non-sexual) this weekend.
Dozens of classes were offered this weekend – ranging from "Fast Ties for Sex" to incorporating occultism into rope-tying to a class on stomping (Yes, it's literally a kink where you get stomped/stepped on or you step/stomp on someone with boots or heels). If the stomping class sounds wild to you, I have to admit it honestly was one of the chillest and most boring class I attended. People were just lovingly stepping on their partners.
My two favorite classes over the weekend, however, had to be "My First Suspension" and "Microbondage with Sharps."
I've wanted to be suspended ever since I was a teeny bopper and discovered the magic of Shibari (Japanese rope-tying) and saw how elegant the rope bunnies looked in excruciating positions while dangling in mid-air. I was lucky enough to find a random single Top in the class who was experienced enough to mostly convince me that I wasn't going to fall and break my neck.
I was tied up in and hoisted from a TK chest harness (see picture below), while my right thigh and ankle was suspended in a simple knot. A side suspension, as seen in the picture (however without the elaborate futo tie of the legs), is one of the safest because the bottom's legs can simply be released so that they can stand back down.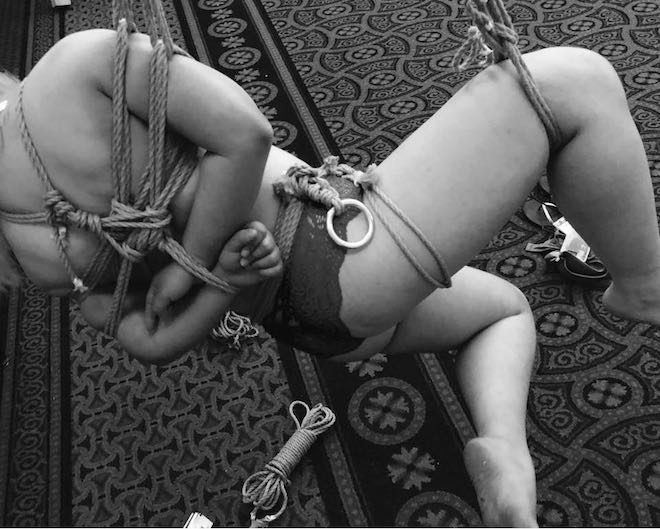 Hanging in the air with your entire body weight resting on your side may sound horrible, but with the right harness and distribution of weight across the body, it honestly is a very relaxing experience. Think playing on a playground swing, except this takes way longer and your parents can't pick you up if you fall off.
I was officially a suspension addict. I went from participating in some decorative rope tying to a full-on rope bunny (rope bottom who enjoys being tied) in a day. That night, I asked another Top who I had scene-d with on Friday to suspend me in an exposing and seemingly painful position. But the result wasn't painful as much as it just caused a loss of circulation on my right foot (See picture below for reference).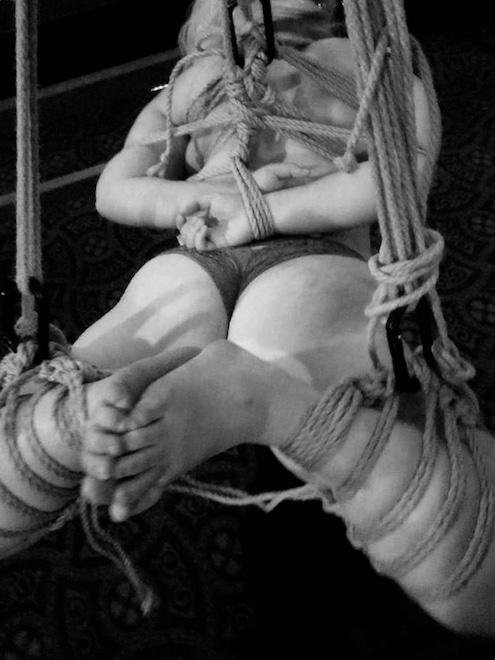 I don't want to brag or anything, but goddamn do I look good suspended. I already like to admire my own selfies about five times a day (at least for comfort), but now I find myself going back again and again to pictures of myself completely helpless, hanging in the air, the jute rope cutting into my skin and creating beautiful marks.
Anyway, on to my second favorite class. Let me explain sharps play real quick because a lot of experienced people in the lifestyle either know very little or don't know about it. Sharps play includes play using needles, staples, knives, scalpels, sutures, nails or anything similar. This could mean anything from inserting several needles into your body to sewing your vulva shut temporarily. My personal favorite way to incorporate sharps is purely for aesthetic reasons. I absolutely love needle/staple corsets (don't open if you're squeamish with needles). It doesn't just have to run down your back – you can also make a small needle corset for down your thighs, arms or other body parts. I had the pleasure of having the teacher, Miss Mackenzie, staple down my upper arm and weave a small pattern in yellow thread, which matched my dress that day.
Sharps play was included in this conference because staples, needles, and sutures can be used as bondage too! Simply line up needles or staples down the back of your or your bottom's arms and knot through some string or mini jute rope. Any slight movement or attempt to break free will rip out the staples or needles, or just create excruciating pain.
If you're wondering why anyone would willingly consent to this, it's because the adrenaline and endorphin rush is insane. The fear and excitement that goes through my body when I'm about to be pierced is unlike any other. The feeling of pain under my skin and the level of control my Top has over me in that moment is something so viscerally intense. Sharps play is of course, edgeplay (a form of BDSM that carries significant risk), and requires meticulous sanitation and supervision. However, if you do it with the right precautions and mindset, you may find it to be incredibly therapeutic.
All in all, RopeCraft was an amazing experience, and I definitely can't wait for next year. Maybe I'll even stop by Jamaica for BeachBind in 2019 (Yes, it's just tying on the beach, which is lit). I encourage everyone to learn basic ties if you are interested. It can even be for therapeutic and cathartic reasons, not just for sex. Trying something new that you are curious about is always a good thing, as long as you do it safely and in an informed and consensual manner. Being pushed out of my comfort zone at the conference allowed me to explore so many new experiences. I found out much more about kink than I thought was possible at this point in my lifestyle journey!
Unfortunately, this is the last Mistress article of the year! However, fret not my pets, you can still submit questions here or talk to me personally to sort out your summer sex adventures here.
Have a safe, exciting and fulfilling summer! And if any of you guys are going to Berlin and want to party with the Mistress in a dungeon somewhere, hit me up. ;)