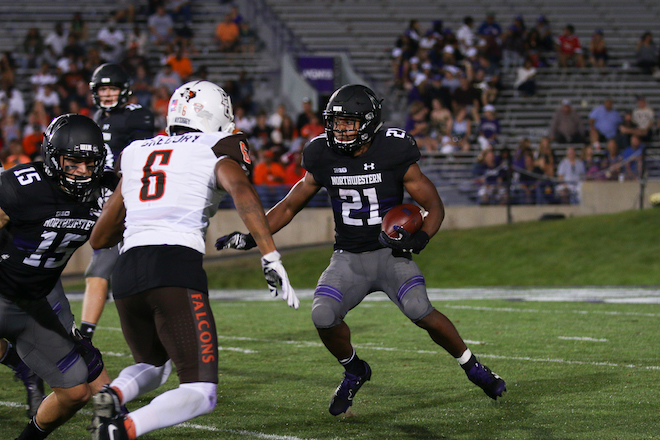 Last year, then-NBN sports editor and now NBN-legend Will Fischer created a weekly column, "Halfway to Saturday" about the 'Cats football team. I'm going to be taking that over this year, bringing you insight and hot takes each week. Last week touched on Northwestern's troubles in the trenches; this week, we take a look at the backfield.
When you have a preseason all-Big Ten running back, you don't expect to need to share the ball much in the backfield – and the 'Cats didn't in game one, giving star running back Justin Jackson 30 carries against Nevada.
Since then, however, Jackson hasn't been quite the workhorse you might expect – and maybe that isn't such a bad thing. Jackson was slightly banged up in week two and got just seven carries against Duke, and last Saturday's rout against Bowling Green allowed some key backups to get some solid reps. The results were promising: freshman Jeremy Larkin made good use of his four carries (for 31 yards and a touchdown) in addition to 41 receiving yards, and Jesse Brown scored his first career touchdown. Perhaps even more importantly, Jackson stayed fresh and rested in what was easily the best game of his season: 121 yards on just 18 carries and three touchdowns.
This didn't all come in garbage time, either: Toward the end of the second quarter, Northwestern drove all the way from their own 10 for their fifth score of the game. Clayton Thorson made a few nice throws along the way, but the 'Cats main way vehicle up the field was by handing it off to the bruising trio of Larkin, John Moten IV and Jelani Roberts (Roberts is a receiver, but he had two carries on Saturday). Jackson didn't touch the ball on the drive, and Larkin eventually ended it with a 14-yard touchdown.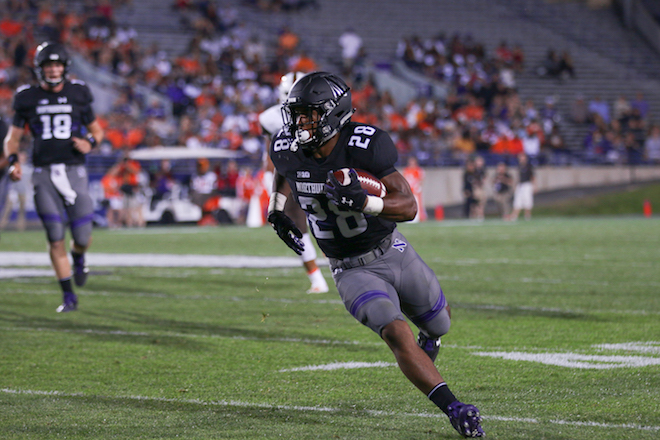 Yes, it was Bowling Green. But the strategy of sharing the ball in the backfield clearly paid off and should be considered in the future. Jackson should of course get the bulk of the carries (more than 18 in most games), but the Duke game proved that keeping him fresh and healthy is hugely important. The Bowling Green game demonstrated that giving the backups a few more carries could be a key way to do that. Jackson had 855 career carries going into this season – that's going to take a physical toll on any back, superstar or not.
Fewer carries could also benefit Jackson even after his Wildcat tenure is over. Running backs have notoriously short shelf lives in the NFL (three of the top five rushers right now are rookies), and limiting Jackson's carries could be vital to his NFL hopes. Already, Jackson has almost 300 more career carries than Jaguars rookie Leonard Fournette had in college, and over 200 more than Vikings rookie Dalvin Cook had in his time at Florida State. If Jackson wants to have a long NFL career, he should hope that his backups can pick up some of his burden.
Even though Larkin was the best backup last week, Moten might be the back to watch in coming games. After being mostly silent last season, Moten had two 100+ yard performances at the end of the season against Purdue and Illinois – and he had two TDs against Illinois. Moten, a redshirt sophomore, has only 10 attempts this year (to Larkin's 16), but his success late last season suggests he could be the best complement to (and eventual replacement for) Jackson.
Let's be clear: Justin Jackson is the best running back on the team, maybe even in the Big Ten, though Penn State's Saquon Barkley would (understandably) take issue with that statement. He should (and will) get the bulk of carries. But as Northwestern starts to face off against bigger, faster and tougher Big Ten defenses, Fitz and Co. should consider splitting the carries a little more to Jackson fresh and ensure a dominant rushing attack.