Although Northwestern dining halls are nice for a quick bite, a morning waffle or an early dinner, they're dining halls can only go so far to satisfy one's love for food. While Trader Joe's has healthy, low-priced groceries and produce, it does not offer prepared food for students who can't find the time to cook. As gourmet as the Whole Foods hot bar may seem, it still possesses a bit of cafeteria essence and lacks a home-cooked touch, in my opinion.
Luckily, just past Ryan Field in the neglected northern region of Evanston, lies Foodstuffs – the mecca of fresh, homemade food and delicacies.
Located at 2106 Central Street, Foodstuffs sells unique and homemade pastry items (such as croissant bread pudding with caramel sauce), custom salads and sandwiches, fresh fruits, soups, prepared foods and more – and all are made in their on-site kitchen.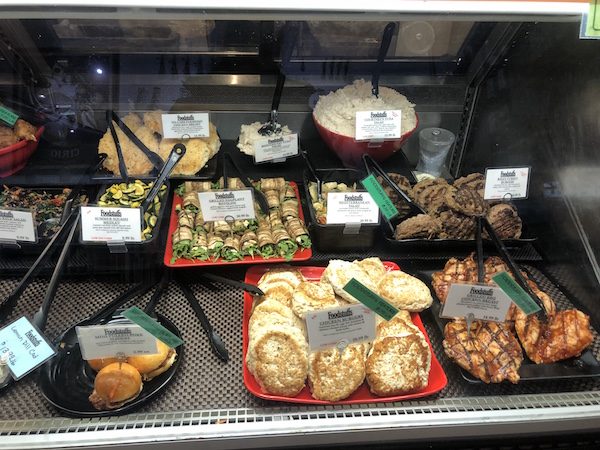 Unfortunately, Foodstuffs is an 8 to 10 minute Uber from Tech and a 1.5 mile walk, which would be unbearable for any winter quarter excursions. A warmer and cheaper option is to take the shuttle to Ryan Field and walk the remaining four blocks. However, this trip is still not necessarily convenient. Consequently, visits to Foodstuffs have to be special occasions to stock up on food and indulge. Foodstuffs is a luxury, as it sometimes surpasses the limits of a college budget and can be a time commitment. However, that's what makes the trips so special: they're a time when college living is suspended.
Foodstuffs radiates a homey, feel-good atmosphere. When entering, you immediately encounter a window of freshly-baked, perfectly-iced desserts and cakes. Just as one look at Medusa's locks turn you into stone, one glance at the dessert display has you stopping in your tracks. If you continue to the right around the corner, you reach my favorite part of the store: the back end of the market where there are tables positioned next to a bookshelf lining the wall. The shelf transports me to my family's library at home where I would do my work and relax with tea. I love being able to eat here with a friend and feel that at-home feeling. Around the corner, you'll encounter the massive array of soups, dips, crackers, chips, fresh fruit and artisan breads. The checkout counter displays various chocolates, power bars, small packages of cookies and other goodies that line the counter.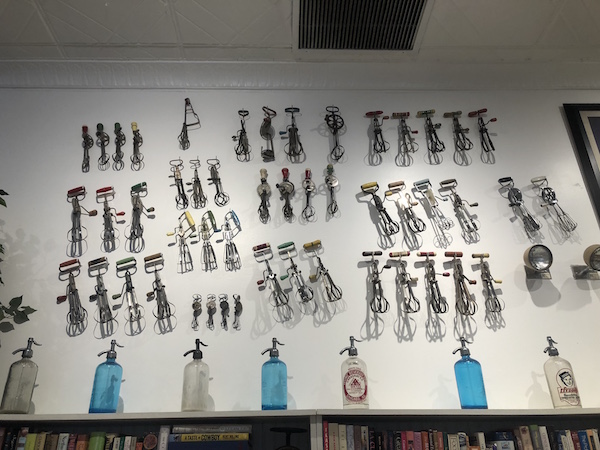 According to assistant store manager Stephanie Heredia, the family-owned market has operated for 30 years with a focus on providing high quality foods made on site. Although there are four locations throughout the North Shore area, Heredia said the current owner always stops by the Evanston branch, reflecting the close-knit community Foodstuffs creates both for the customers and employees.
"My favorite thing is the people who work here," Heredia said. "It very much feels like a family. Ya know, we work really hard, but we laugh and have a good time."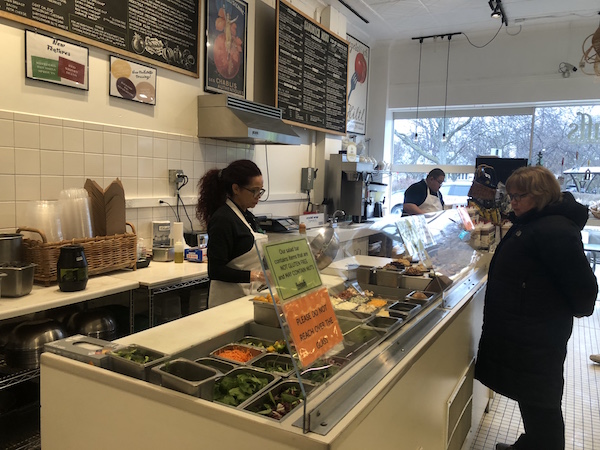 Some of Foodstuffs' most popular items include The Californian sandwich, The Sorry Charlie sandwich, the monster cookie bites and roasted red pepper dip. Their "Courtney's tuna salad" is their best seller, with 25 to 40 pounds being purchased per day, Heredia said.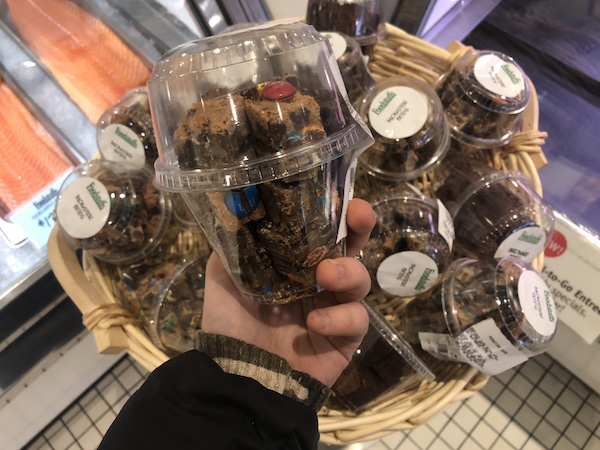 Some of my personal favorites include the brussels sprouts, zucchini bread, puppy chow, veggie chips and mini buttercream cookie sandwiches. As a brussels sprouts fan, Foodstuffs' are my favorite in Evanston because of their balsamic to sprout ratio. The balsamic does not drown out the vegetable, but rather accentuates its flavor. The zucchini bread is the perfect breakfast, as it's healthy, energizing and filling. The veggie chips are the healthier, but just as a tasty alternative for an afternoon snack of potato chips. If you've never tried puppy chow – Chex cereal mixed with melted chocolate, peanut butter and lots of powdered sugar – your life is about to be changed. It's the perfect late-night, messy snack. Also, as someone who loves sprinkles and sugar, the mini buttercream cookie sandwiches are the perfect size to fill my sweet cravings.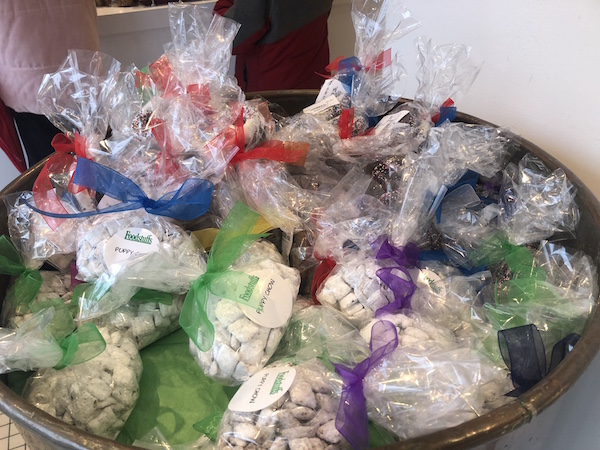 What I also love about Foodstuffs is that they post their weekly menu online, so you can know what they have before you even get there. For example, every other Thursday they serve Indian food. If you know you love curry and don't know where else to find it around Evanston (I know I'm still looking for the perfect Indian takeout), you can plan your Thursday schedule with this in mind.
For those of you who miss afternoon sample runs at Costco, Foodstuffs' samples are probably the highlight of my trips to the store. During my last visit, I tried an amazing crab dip – its thick consistency, coleslaw-like taste and freshness made it a 10/10 tasting experience, so I ended up buying it.
Foodstuffs is my kitchen away from home I've been seeking since my first month of college. Although it can never beat my family's recipes, it for sure comes close with its gourmet selection. There's no better time to restock your fridge and pantry than Spring cleaning – so head over to Foodstuffs and let your belly party.
Bonus: Showing a Wildcard at checkout gets you 10 percent off, so really, there's no reason not to go.