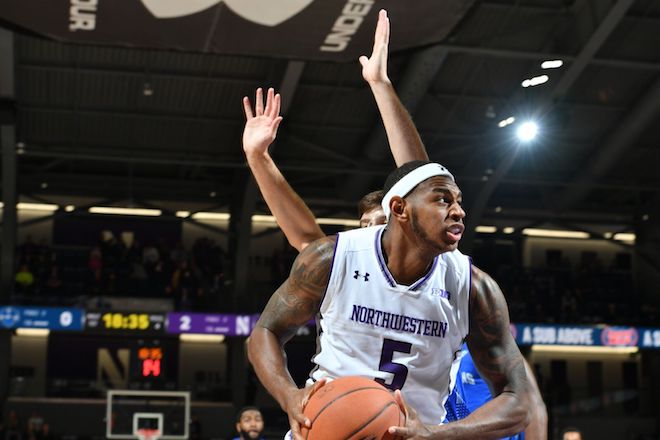 Dererk Pardon is one of the smaller centers in the Big Ten, but when he walks onto the court, he makes his presence known by everyone in the arena. He sets the standard for the rest of the team, demanding attention and respect not only because of his title as captain, but also because of his confident aura. He's the leader that this developing team needs in order to bounce back from a disappointing 2017-18 season and have a shot at returning to the NCAA tournament.
The 2018-19 season is unpredictable simply because of all the new pieces. The Wildcats lost Scottie Lindsey, Bryant McIntosh and Gavin Skelly, three top players who carried the team's offense. Now Pardon, along with fellow seniorsVic Law and Jordan Ash, need to stabilize the team as the new captains.
On today's Pardon My Dunk... 👀@dererk5 gets the dime and throws down, and @NUMensBball has pulled away: pic.twitter.com/xz0JsY4y56

— Northwestern On BTN (@NUOnBTN) November 9, 2018
As captain for both this season and last season—and a key member throughout his Northwestern career—Pardon has experience in knowing where the team needs to improve in order to succeed on the court.
"We're not nowhere where we want to be, but we're definitely in the right direction. We just gotta continue working everyday and make sure that our habits are right," Pardon said.
Famous for the game-winning layup against Michigan which essentially sent the Wildcats into the NCAA tournament, Pardon has solidified his place in Northwestern history over and over again. He holds the highest field goal percentage in recorded school history with a 61.9 percent clip, and he was the only player to start in all 32 games of the 2017-2018 season. With his stats alone, he ranks as one of the top players to come through Northwestern's basketball program, but he doesn't focus solely on his success.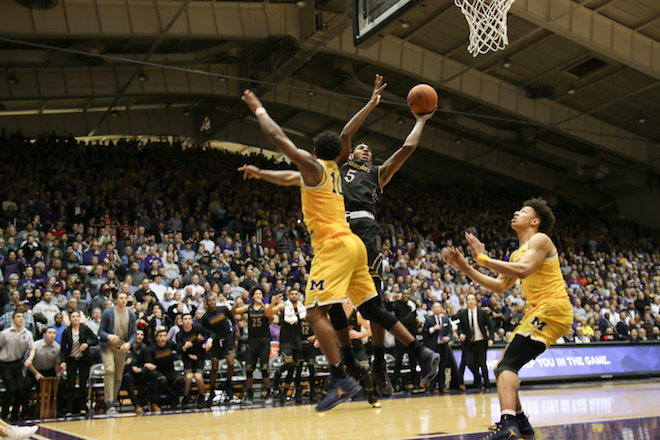 When asked about expectations for this season, Pardon said, "I'm not really looking at that at this moment." He continued, "We're just working everyday, and we'll get what we deserve later on in the year if we do everything the right way."
With four first-years and one transfer graduate student, the team has plenty of fresh faces who look up to Pardon. From watching the dynamic of the team during practices and games, one can easily see how willingly the team listens to Pardon's feedback. Pardon explains that the impact of his role depends entirely on the those he leads.
"No matter what good leaders you have, if the recipients aren't open to learning, then it's not going to help," Pardon said. "Whenever I do have critique or I have something to say, they respect me and respect other captains and really take it to heart and learn from it."
Moreover, Pardon genuinely believes he has a good team to lead—Northwestern is currently integrating the highest-ranked recruiting class in team history. Though not expected to, the 'Cats have the potential to contend for a Big Ten title if they continue playing as well as they have thus far. Pardon's influence has clearly had an impact on Northwestern's hot start. Pardon is averaging a double-double, and the team's defense ranks thirteenth in the nation with 52.3 points allowed per game.
.@dererk5 is creating his own dunk highlight reel in one game. 👀 pic.twitter.com/bmKBGDjwf0

— Northwestern On BTN (@NUOnBTN) November 13, 2018
Chris Collins will be responsible for juggling a crowded roster in what is likely to be a more fast-paced offense. Boasting talented players like Ryan Greer, Miller Kopp, Ryan Taylor, Ryan Young and Pete Nance, the challenge for the captains will be ensuring that the new guys keep focus and intensity throughout the entire game. With three years of experience and an NCAA tournament appearance under his belt, Pardon is equipped to do just that.
Beyond the individual talent, the team needs chemistry in order to perform well together. The players recognize this and take time off the court to get to know each other, two key factors that Pardon says contributes to the team's on-court chemistry. With so many new players, maintaining team chemistry hasn't been easy, but Pardon emphasized that it has been cultivated over the last several months.
"We've been practicing since the summer so it's just constant everyday," Pardon said. As demonstrated in the games against McKendree and New Orleans, the many different rotations showed their connection meant that no matter who's on the court, the men can adapt and play off each other.
The coaches recognize Pardon's strengths in these rotations, keeping him on the court and making him the focus of the offensive game. "We've got to get the ball to Dererk more...We can't forget that we have an elite big man," Chris Collins said in a press conference after the win against New Orleans.
.@dererk5 doing whatever he wants in the post for @NUMensBball. 😤 pic.twitter.com/qXTpOH258r

— Northwestern On BTN (@NUOnBTN) November 13, 2018
He stands out beyond Northwestern's hype and will continue on this track toward becoming the top center in the Big Ten. In 2018 Pardon ranks second in NCAA D1 basketball for offensive rebounds this season compared to eighth last year, and last year he was fourth in the Big Ten for his field goal percentage of 61.9 percent.
Given Pardon's role on the team and his national recognition, the student body and media place the majority of the team's pressure on him and Law. When asked if this pressure affects his game, Pardon laughed.
"I just play out there and I do what I can to help the team out, so I'm not really worried about the media or anybody else."
Somebody might wanna put a body on @dererk5. 😳

The @NUMensBball big man brings the thunder and sends the 'Cats into halftime with some sizzle. pic.twitter.com/R797Nvf0Th

— Big Ten Network (@BigTenNetwork) November 25, 2017