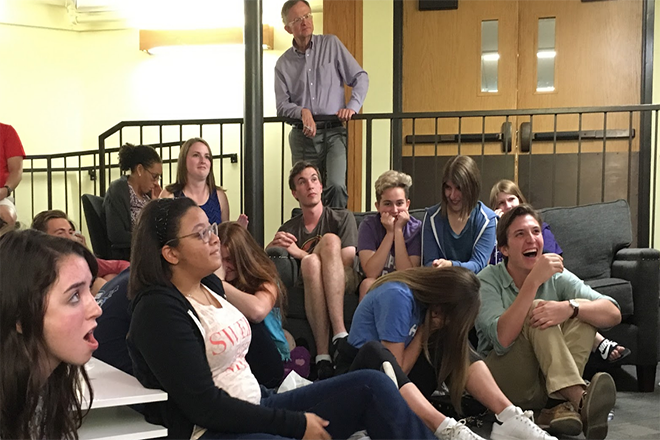 Nods, chuckles and exasperated gasps floated through the crowded main lounge of the Communications Residential College during the debate watch party Monday night. A CRC tradition every election year since 2004, the party featured a post-debate discussion led by School of Communication professor David Zarefsky and Medill professor Craig LaMay.
Several viewers, including Medill freshman David Guirgis, said Trump performed differently than they expected.
"He was definitely tamer than he's been in previous debate forums," Guirgis said. "But despite the fact that he's toned it down a little bit, it was still the packaging that his campaign used going into the debates."
In contrast, according to LaMay, Clinton was able to distance herself from past critiques of her character and form more personal connections with the audience.
"One of the tropes that I hear is that she's either cold or unfeeling, or that she's a weak woman," LaMay said. "There she is on the stage with Mr. Trump, who has been known to belittle and berate his opponents, and she did fine."
In addition to the candidates, CRC's viewers also discussed the responsibilities of debate moderators. LaMay said he believes that journalists should not moderate debates at all, but thought Lester Holt performed well in his role.
"If you are a journalist, you have an interest in and a bias toward creating controversy," LaMay said. "The moment the moderator becomes a fact checker, he's not a moderator."
Communication freshman Allyson Snyder said she wishes Holt had been more aggressive.
"Trump just kept tearing him down," Snyder said. "I would prefer having Lester Holt fact-checking or someone from the debate fact-checking rather than the candidates themselves."
Despite the night's lively discussion, almost everyone present said they are already locked into a specific candidate; according to Zarefsky, this is normal. The debates almost never swing voters from one candidate to the other, he said, but can still have a profound effect.
"The difference that it makes has to do with the intensity of support one has," Zarefsky said of the debate's potential impact. "If you start off as a Trump supporter, you can become a stronger or weaker Trump supporter," – but you're not likely to suddenly decide '#ImWithHer.'
The next debate will feature questions from a forum of undecided voters, something LaMay said he thought was quite interesting.
"These are two people that have been in public life for 30 years and this is the most contentious campaign in memory," he said. "How you could be undecided, I have no idea."
Editor's note: a previous version of this story quoted a Communication freshman named Allison Snyder. Her first name was misspelled – it is actually Allyson. NBN regrets this error, and made this edit at 2 a.m. on October 6.